Sharel Cassity has been making waves in the jazz world for a number of years now, with two albums under her belt, a third on the way, and a sound reflective of a true artistic sensibility. The Revivalist met up with her in between rehearsals to learn more about what drives this bright young alto player.
What is your greatest challenge as a performer and composer?
To get better everyday; to do something different everyday. To try to improve myself in what I do, so I can give something to people when I go out. That's the biggest challenge.
Do you ever find yourself getting into a rut, or repeating yourself?
Yeah, I think with any artist, it's the same. You tend to get into a rut, or get bored with something you're working with, or writer's block. But the thing I love about jazz is that there's so much life in it, so when that happens, you just turn your head and stop paying attention to what you're stuck with, and pay more attention to life. It tends to work itself out. So maybe if I'm stuck in a rut, I'll go out; I'll go somewhere I haven't been. Whether it's a music situation or not, I'm going to bring something else from that. Different things happen in life to inspire you. So sometimes, if you're stuck in a place, you can either wait it out, or you can create something that's going to put you on to the next thing.
How would you describe your work, both your compositions and your performance?
When I write, I write from experience. So everything I write is some kind of story. When I play, I want to affect people in a way that moves them to think about something else; to try to be who they want to be.
You have a song called "Say What?" What is the story behind that song?
Well…short story [laughs]. The short version: someone told me that I couldn't play; they said, "You couldn't play. You're a woman, you're always a woman, you'll always be a woman, and no matter who you sleep with, you'll still be a woman." And they didn't even really know me. So, after that rehearsal, I wrote that song. And I'm not totally into the whole "women in jazz/feminist" thing; I'm really not about that. But when they said that to me, it affected me, and I wrote the song.
What do you mean by you're not into the "women in jazz" thing?
I'm not into supporting women in jazz just because they're women in jazz. I'm into supporting people who play good music. If they happen to be women, that's awesome; that's great. These days, you're seeing it more often than not. But it didn't used to be like that.
What made you choose the saxophone?
No idea. I played the piano. My dad played in an organ trio that had tenor. And I really wanted to play the tenor. It probably came from that. But I ended up getting an alto. I was nine. I just loved it. I don't know what it was. I just loved it.
What intrigued you about the saxophone then, and what intrigues you now?
The possibility. The minute I played it, I loved the sound, and the idea of all the different combinations that could be made on the horn. And I think the same thing still intrigues me. Just kind of on a larger scale [laughs].
Did you connect with the saxophone more than with the piano? Was there something about the way it sounded, or the way your hands moved that made it easier for you to express yourself?
No…I just liked it. I loved the piano, too, and for about seven years, I had a struggle, between which one I liked more. But ultimately, you know what it was—I was playing classical saxophone for a long time. Then in my teens—I was about fourteen—someone gave me a tape that had—I'm showing my age now; it was a cassette tape—it had Bird, and Cannonball, and Miles, and Basie…it was a mixtape. And the minute I heard that, it was almost like I dropped everything else.
You went to Juilliard. How did the academic side of playing affect your composition and your performance?
I think it just made everything stronger. There were twenty-five students there, and we were all there to expand on whatever it was we were doing. So we got very personalized help from the faculty. So if I took in a tune, I would get advice from everybody, and I could take it or leave it, and do what I wanted; but I had a lot of support. And they would guide me in certain directions, to help me get into more complex ideas, or harmonies, or whatever. There was a lot of emphasis on composition, and arranging, learning the history. A lot of jazz musicians, I've noticed, don't go before the '60s, Blue Note sessions. You've gotta learn Louis Armstrong and Sidney Bechet—the masters. They laid it out. It's also in the '60s stuff, but when I went to Juilliard, I learned how important it was to really go back.
At Juilliard, everyone was a great player. Everyone had something to bring to the table. And you really had to find what that was, and bring it out, or else you would get smothered at a concert by the next cat that was going to play. It was neat in that respect, too. We got to workshop our compositions, but also playing, everyone was shedding all the time. It was competitive, too. It was nice.
It was competitive to get in, but it was competitive while you were in the program, too?
In a healthy way. People would always try to do something better than the next one.
In performance, or getting gigs?
Anything. Even in a rehearsal, someone would maybe play a phrase, and everyone would go, "Ooh!" And then someone else, the next solo would play the same phrase, and take it through the keys. There was always that—people trying to one-up each other, but in a healthy way.
I know you grew up in Oklahoma, among other places—
Yeah, I moved around a lot, before I was twelve.
What are some of the other places you lived?
Colorado, Texas, Pennsylvania, Iowa, Boston, Wisconsin. My mom worked for the government. My parents were divorced. My dad was a musician, so he was moving around a lot.
But you played jazz while you were in Oklahoma?
Yeah, that's where I got hip to jazz. Since I can remember, my dad would play records. He played Bill Evans, Coltrane ballads—he liked a lot of jazz. But he really was into the Jimmy Smith organ groove sort of thing. He played that all day. And I loved it, but it didn't grab me as much as when I heard jazz, and I was like, "Wow." Playing piano, I didn't really see an outlet for myself. For some reason, I didn't see myself playing piano. When I heard jazz, I was like, "Saxophone. That's what I have to do."
What is the jazz scene like in Oklahoma?
It's not very big. There's really like one or two places to play. If you're lucky, you get some gigs at restaurants. We would have guest artists, maybe two a year come in, and play with the band. We would also travel. I remember driving six hours into Kansas, and driving back after the concert to see Kenny Garrett play. Maybe '94, '95. Just me and a group of friends, because we really wanted to see Kenny. That's kind of how you had to get the music. Either that, or buy out Borders. And a lot of my money went to that, too….I think I learned the most when I moved here. When I moved here, I could play. I was a classical saxophonist for a long time before that. And I was only playing jazz, maybe…five years before I moved to New York. So I had a nice sound, I had technique, I had control of the instrument. And I had good ears, and I could hear certain things. But I hadn't accumulated the language, everything that I know now. So when I moved here, I hung out for two years, just hitting the sessions at Smalls, Cleo's, wherever. Then I went to New School, finished my Bachelor's there, and then went to Juilliard for the Master's. And that was good. It worked out.
What are some of your goals as a musician?
It's hard to say. I just want to keep improving. And finding a way to connect to people. And it seems to get harder and harder, the way pop music is, and what people are relating to. What I'm trying to strive for as a musician, you know, it's a little more complex, and it's hard to mesh the two to something my mom would like. Because if she likes it, I think it's good. If she doesn't like it, I think, "Maybe I'm getting a little head-y." I don't want to be that kind of musician. I think if you're truly doing something, then you're affecting people in a good way.
What would be an example, either one you've experienced, or one you would like to experience, of affecting people through your music?
Well, for instance, when I went to that Kenny Garrett concert, I can still remember how I felt. I felt so happy. The music made me feel so good. I could feel that it was meaningful, I could feel that it wasn't BS, and I could feel that it was intelligent, in the midst of everything else, of the groove, of the soulfulness—it was still intelligent. And I think that goes a long way, all of those elements. And I saw everyone else in the auditorium—they felt the same way, whether they were a musician or not. I think you can go to a rock concert, and maybe find the same thing, or any other kind of music. But I think there's something special with jazz that makes people think, and maybe reflect, and focus on certain things in their lives.
Who would you like to play with in the future?
Oh, man. There's such a long list. I'm really excited about my next record, because Lewis Nash and Cyrus Chestnut are going to be on it so far. Roy Hargrove, anytime. I love his music. I love so many musicians. It's kind of hard being a saxophone player, because I can't name all the saxophone players. I played with Rudy Royston the other night, and he was amazing. Kenny Barron, Mulgrew Miller, Cedar Walton. I mean, I would love to play with any of the masters. The fact that I get to play with Jimmy Heath just blows my mind. But the thing is, if I just keep improving on a daily basis, you never know what can happen.
I played with Benny Green about two weeks ago. He called me, out of the blue, just to play a duo, at the studio. That was amazing, because I'd been listening to Benny Green for a long time. I love a lot of the big bands, too. I love Roy's big band. The Dizzy big band is great. Charles Tolliver has a great big band. Christian McBride's big band is really hot.
What's it like playing with someone you admire?
It's exciting and humbling at the same time. You just have to keep your head. Playing with them is humbling because most of the time, people who are masters are very, very nice people. And if they have the make-up to play with you, and not think poorly about anything you're doing, and maybe even try to say something to help you—anytime they do that, they're just giving you a little diamond, a gem. It's amazing when you get to talk to those people, or even play with them. Because it lifts you up.
Sharel Cassity Quintet feat. Greg Gisbert "Call to Order" at Dizzy's Club Coca Cola.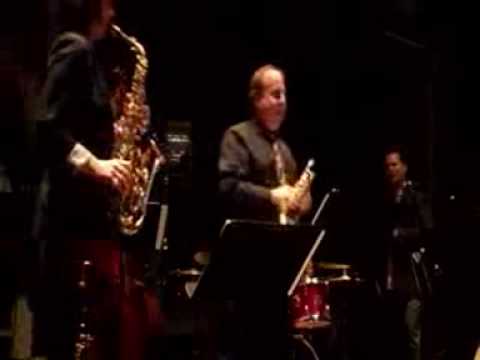 For more information on Sharel Cassity: http://sharelcassity.com/
Words by Kyla Marshell