photo by Chris Carr
The first time I ever remember hearing the term "key bass" was during several episodes of Diddy's, MTV show "Making His Band." He was assembling the tour band for his group Dirty Money. There were brief moments of discussions and decisions about which bass/key bass player to choose, but those moments were lasting enough to stir my curiosity to make me want to know more about key bass. Little did I know, at the time, that the use of key bass as an instrument was more ubiquitous than I realized. So what is key bass exactly? It's that rhythmic groove, played on a keyboard or organ that emulates the low, deep tonal sounds of the upright bass or bass guitar.
Although key bass is widely used in many genres of music including hip-hop, rock, and of course funk and soul, the use of key bass as an instrument became popular in the 1950s and 1960s with organ trios of the time. These trios where mainly comprised of a Hammond organ player, drummer, and an additional instrumentalist. In organ trios, the Hammond organ player is the one who plays the bass line on the organ bass pedals while simultaneously playing chords or lead lines on the keyboard.
To find out a little bit more about key bass, it's history and it's current impact, I spoke with Yuki Hirano, one of the most dedicated, passionate and talented keyboard and key bass players on the scene today. He has played with Bilal, Talib Kweli, Marcus Miller and Jean Baylor (formerly of Zhane) amongst many others.
How long have you been playing?
Piano or key bass?
Both.
Piano, I started when I was 5 or 6. I started playing classical music. My mom used to play piano in my house.
How long have you been playing key bass?
Actually my first inspiration was the organ jazz. What you call, rare groove, in the 60's and 70's with Lonnie Smith and Jimmy Smith were the men on the Blue Note label.  The classic organ trio setting. I used to be s big fan of that. So the funky jazz kind of sound. So that inspired me to start playing organ bass lines with my left hand.
I was talking to someone and they were telling me a little bit about key bass. That it's mainly originated with organ trios, and that it's played on a Hammond and he mentioned the left hand.
Yep.
Is that the standard?
Yeah! I didn't start it. The dudes in the 60's, they started it. Lonnie Smith is like my mentor.
So you don't have to know bass to play key bass?
It may be better to know. I don't play bass but I listen to bass lines. I sincerely learn the bass lines. I don't really know how to produce the lines from the actual bass instrument. I wish I knew. That may change my plans but I just don't play it. But I listen to them a lot. I try to learn from the real bass players.
That's how you learned? You just picked it up by watching other bass players?
Basically. Of course I listened to how Lonnie Smith, Jimmy Smith, and all of those organ giants played bass with the left hand. Then, I started learning from the real bass players.  The first one that I remember is James Brown, the album, Jungle Groove.  I learned just the bass lines.
You basically taught yourself?
I sucked when I was in school.  I can say I'm good now and I'm still learning but when I was in school, I was horrible. I was getting intimated when they were calling the bass players for the jam sessions, because the bass players are the busy ones in school. They always get called. Everyone needs a bass player. Everyone needs bass. Everyone needs some low end.
So you're taking that on by playing key bass?
Yeah.
Beside yourself, can you name other artists, jazz or likewise, that play the key bass? Any particular songs, that stand out?
You know what. One second. There are, talking about key bass, there are two important things; just playing a synth bass itself and also doing a coordination of playing the bass and playing something else at the same time.
In that matter, I'd say Soulive, now is like the new Jimmy Smith, Lonnie Smith, I don't know. They are like the new old, the new classic. Redefining the left hand bass.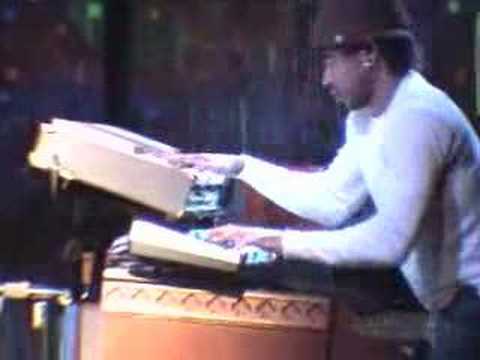 So, Soulive, you also mentioned Lonnie Smith and Jimmy Smith. Can you think of anybody else or any particular songs, that when you listen to it you're like "wow, that's a heavy key bass".
I was on YouTube recently and saw Usher performing a cover of Stevie Wonder. I don't remember the name of the tune. But there's a guy that plays bass on a keyboard and he killed it. He was crazy. And of course Stevie Wonder! All his stuff. A lot of dudes. Stevie Wonder and Herbie Hancock. The song "Textures" by Herbie Hancock. That song has some sweet bass lines.
What's your setup?
Synthe Bass, made by Korg back in the 70's, 1974. It's not a high-end machine but it just does its job. That machine sounds fat! I also have a mini moog, an original mini moog and also a V-Synth GT by Roland. That's a new keyboard. I use various keyboards for the recording setting but for the gigs. I use the little one [Synthe Bass].
That's your only thing?
That's my main gigging setting. That's my baby.
Is there anything else about key bass that you think people should know?
Key bass is fun!
More fun than playing the keyboard?
Yeah!
Why is it fun?
Bass is an instrument that I've always admired. Bass controls and leads. Bass creates the groove and a harmony. The groove and the color of the music. Bass's got it. Bass is such a powerful instrument.
Words & Interview by Terri Neal