It's hard to imagine a more organically orchestrated and magical tribute to the late Guru than the one that we had on Thursday, April 21st. With the 400 or so attendees, there were many more of you out there who missed the night for whatever reason, and will never experience first-hand what we witnessed that night at Le Poisson Rouge.
Photo by Deneka Peniston @ dpeniston.phanfare.com
Not to rub it in or anything, but between Greg Nice summoning saxophonist Sharel Cassity into one of the most memorable solos of the night, the magnitude of a 19-piece band recreating Guru classics, or Premier jumping on stage to give a heart felt blessing to his late partner, and the discreet and surprise appearance of Roy Hargrove, this was a night that will never be forgotten in the history of hip-hop. But just because we love you, here are some media links from some of our friends to give you a glimpse of what you missed: The Pace Report gives a video synopsis of the evening's performances. Check it out below: Blackout Hip Hop shows the comedic stylings of Jeru the Damaja, warming up the audience before a half dozen other surprise emcees: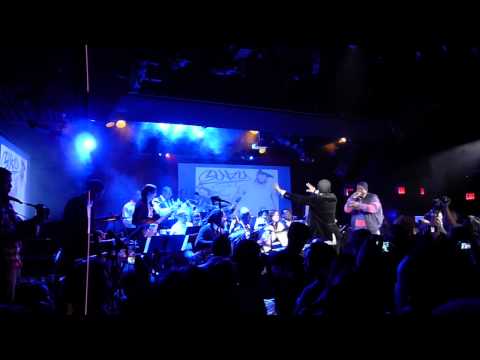 The Couch Sessions shares a review in photos, capturing the magic of the night.
The proceeds from the evening, along with a generous donation of $5,000 from Babygrande Records president Chuck Wilson, were donated Guru's son, K.C. Elam. For more information about ways that you can contribute, please check out the X Label headed by Guru's nephew Justin Nicholas-Elam Ruff, who is preserving his legacy through a new clothing line, documentary, and music projects. Please check out their website here.