It's time for a new installment of Revive Music's original literary series: Order is Everything! This is a how-to guide for music lovers looking to invest in the catalogs of prolific artists. Let's say you are curious about Herbie Hancock, James Brown, John Coltrane, etc. You want to see what the fuss is all about, but you don't know where to begin. Which album should you buy first? Well, Revive is here to help! Each installment will instruct – better yet, suggest – the would-be consumer on not only which albums to buy, but also in which order to collect them. One might think to buy them in chronological order, but for a great artist with 10 or more albums, there's a science to collecting the records. First of all, not every record is essential to own, especially if you're a casual music fan with a reasonably extensive palette. Second, the first purchase is crucial to the listening experience of the consumer. The first album you acquire is usually a microcosm of their artistry as a whole, balancing the crucial line between individuality and accessibility. Each succeeding album you get would be an expansion of the last, increasing the likelihood that you'll purchase it, developing a genuine admiration of the artist's music during the process.  Today's artist is Stevie Wonder.
The Rock & Roll Hall of Fame singer has been a revolution unto himself. He's considered a genius of the highest order by fans and peers alike, not only as a songwriter, producer, and multi-instrumentalist, but an innovator of technology in the R&B community, embracing the use of synthesizers in a manner never conceived before. Blind since birth, Wonder used his lack of visual sight as a means to gain a prodigious insight into the human spirit. It's that vision that's allowed him to use the platform of pop music to expose fans to various genres and styles, making him an invaluable artist to the world at large. Since 1963, Wonder has released 26 studio albums. Revive Music has narrowed down nine essential recordings for the music lover to own.  Here's the order in which to collect them:
1. Songs In The Key Of Life (Motown, 1976)


As Stevie's biggest selling album – over 10 million copies sold – Songs in the Key of Life is a logical choice for the first purchase of a Wonder Lover-in-training. The double album covers every single aspect of Stevie's adult musical output, both creatively and thematically. There are songs in which he plays all the instruments himself ("Have A Talk With God," "Village Ghetto Land") and songs with famous musicians ("Another Star," featuring George Benson and Bobby Humphrey; "If It's Magic," featuring Dorothy Ashby on harp).  A concept album on life itself, there are songs that deal with everything from heartbreak ("Ordinary Pain"), childhood innocence ("I Wish"), to birth ("Isn't She Lovely"), and transcendental love ("As").  With music ranging from classic symphony to heavy metal, a listener would be hard-pressed to find something they didn't like among these 21 classics.
2. Innervisions (Motown, 1973)


Among Stevie connoisseurs, it is argued that Innervisions is, indeed, a better record than Songs in the Key of Life. Be that as it may, it stands alone as one of the single greatest statements in soul music history. Inspired by label mate Marvin Gaye's epic What's Going On LP, Wonder wrote politically-charged songs that were much more biting and confrontational than that of Gaye's sage observational approach. The jazzy "Too High" exposes the deadly consequences of the flower power drug movement, the funky blues of "Living For The City" tells a sad story of a man destined only to get by but never through, and "He's Misstra Know-it-all" is a harsh, gospel-tinged, criticism of former President Nixon.  Stevie does, however, sprinkle in some beauty with the love ballad "Golden Lady" and the Latin-tinged anthem of support, "Don't You Worry 'Bout A Thing."  Innervisions is an album no one should be without.
3. Talking Book (Motown, 1972)


With the monster pop success of number-one singles "Superstition" and "You Are the Sunshine of My Life," it's easy to overlook that Talking Book is one of the more melancholy albums in Stevie's catalog, made so by his dissolving relationship with his first wife, Syreeta Wright. With Wright contributing lyrics to some of the songs, tracks like "Blame It On the Sun" and "Looking For Another Pure Love" were comments about Stevie's neglectful ways – to which Stevie interpreted sublimely with his voice and his production – while  "You've Got it Bad, Girl" would go on to be one of the most covered songs by jazz artists in the 1970s (Quincy Jones, Hank Crawford, Herbie Hancock).  If for nothing else, Talking Book is worth having for its superb song-craft and Stevie's dynamic singing.
4. Fulfillingness' First Finale (Motown, 1974)


If you found the painful tone of Talking Book intriguing, then Fulfillingness' First Finale is right up your alley, as it's even more of an emotionally solemn experience. This album was written and recorded in the aftermath of a near-fatal accident Stevie suffered in 1973. On Fulfillingness' First Finale, his voice is much more subdued than any of his recordings before or since. He focused on God quite a bit here, whether it be obviously ("Heaven is Ten Zillion Light Years Away") or abstractly ("They Won't Go When I Go"). An LP much more brooding than Talking Book, even the love ballads like "Too Shy to Say" and "Creepin'" sound incredibly somber. He turned up his political angst for President Nixon 10 notches with the funky, Jackson 5 assisted assault of "You Haven't Done Nothing."  Surprisingly, Stevie's ominous state of mind is ultimately what makes this album so compelling, and indirectly revealing of his personality. Fulfillingness' is as close as we'll ever get to Stevie being autobiographical.
5. Original Musiquarium I (Motown, 1982)


Compilation albums, or greatest hit releases, are ordinarily off limits for this series. But in this case, there is an unavoidable exception– a 16 song, double LP, most of the songs you've already heard on the four previous records, like "Superstition," "Higher Ground," and "Sir Duke." Original Musiquarium I will also introduce you to other Stevie tracks on albums you've yet to hear, like the sentimental "Send One Your Love." However, among the 12 hit-singles are four new songs recorded specifically for this release, and three of those tracks would go on to be classics in their own right, perfectly blending in with Stevie smashes. "Ribbon in the Sky" is one of those timeless ballads that gives you goosebumps after the first four notes. The jazz/soul coolness of "That Girl" seeps into your skin thanks to Stevie's killer drumming. Lastly, the 10-minute workout of "Do I Do" is not a second too long, full of infectious double guitar work, eye-popping horns, and a memorable trumpet solo from the legendary Dizzy Gillespie.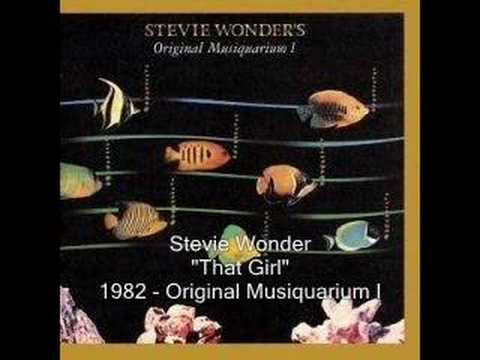 6. Music of My Mind (Motown, 1972)


OK, by this point you might be emotionally drained from the deepness of Stevie's material, so the next album should offer a much welcomed air of relaxation. Released six months before the melancholy Talking Book, Music of My Mind is a collection of songs that embrace love and denounce evil. His first time writing his own lyrics, Stevie's mood ranges from carefree ("Happier Than the Morning Sun"),  to resentful ("Superwoman" and "Where Were You When I Needed You"), and he shows a glimpse of his now-famous sense of humor ("Sweet Little Girl").  Although he'd been composing his own music for a few years and playing keyboard sporadically on record, Music of My Mind was Stevie's true coming-out party.  With the exception of guitar on one song and trombone on another, Stevie played every instrument on the album, personifying his legendary reputation as a one-man band. The real beauty of this album is the innovative use of synthesizers.  Before Music of My Mind, the synthesizer was an invention for imitating acoustic instruments, but Stevie used them to create new colors and sonic atmospheres.
7. Hotter Than July (Motown, 1980)


Stevie was not as prolific with his music output in the 1980s as he was in the 1960s and 1970s.  In all, he released three full-length studio albums (not including The Woman in Red soundtrack), compared to eight in the previous decade (two of those were double albums.) However, if there's one Wonder album from the "Me" decade to own, it's Hotter Than July.   Appropriately enough, July has a similar tone as Music of My Mind, a compilation of numerous themes and dispositions, be it the political disbelief of "Cash in Your Face," crippling heartbreak of "Rocket Love" or "Do Like You's" youthful exuberance.  The highlight is the reggae dance hit "Master Blaster (Jammin')," a tribute to Bob Marley (before he passed.) Once again, Stevie goes out of his way to educate the masses on new sounds and experiences.
8. Signed Sealed Delivered (Motown, 1970)


Now, you may already know that Stevie Wonder was a star at age 12, with many hits during his teenage years. While none of his albums from the 1960s appear on this list, Signed Sealed & Delivered is a conduit between Little Stevie Wonder and Stevie Wonder, the grown man.  Stevie asserted himself as producer of the title track and on his funky, clavinet-driven Beatles cover, "We Can Work It Out," but the majority of the record was written, produced by, and played by Motown staffers, much like his preceding LPs.  Stevie's voice is masculine and sure on songs like the hopeful "Heaven Help Us All," but he allows his adolescent spirit to run wild on the drum happy "Sugar." You'll be accustomed enough to Stevie by this time to embrace his younger aura, but you'll still hear the maturity that's gotten you this far.
9. Where I'm Coming From (Motown, 1971)


Now, we've reached the end of our run.  This is the last of the essential albums of Stevie's, Where I'm Coming From. Motown records awarded Wonder full creative freedom at age 21. Even though he'd been allowed to compose music for himself and others, he was still under the restraints of Motown's pop assembly line. Eager to go beyond the box he was trapped in, this would be the first time he could produce the entire album on his own, playing drums, keyboard, clavinet, and harmonica on all tunes, with Funk Brothers like bassist James Jamerson filling in the blanks. He wrote the music to all nine tracks and his future wife, Syreeta Wright, contributed every lyric. The political leanings you've heard on Innervisions first come through here on the hard rocking "Do Yourself A Favor" and "I Wanna Talk To You."  Still not quite finding his footing like he would on Music of My Mind the following year, "If You Really Love Me" and "Never Dreamed You'd Leave In Summer" were previews to Stevie's signature themes of love and heartbreak, respectively.
There you have it.  The nine Stevie Wonder albums you must own. For you completists out there, here are the remaining Stevie Wonder albums:
* Recommended, but not essential
The Jazz Soul of Little Stevie, 1962
*12 Year Old Genius, 1963
Tribute To Uncle Ray, 1963
With a Song In My Heart, 1963
Stevie at the Beach, 1964
Uptight, 1965
*Down To Earth, 1966
I Was Made to Love Her, 1967
*Someday at Christmas, 1967
Eivets Rednow, 1968
*For Once in My Life, 1968
My Cherie Amour, 1969
Journey Through the Secret Life of Plants, 1979
The Woman in Red Soundtrack, 1984
In Square Circle, 1985
Characters, 1987
*Jungle Fever, 1991
Conversation Peace, 1995
*A Time 2 Love, 2005