ORGONE have been a mainstay in the funk scene for years. The Los Angeles-based funk collective has dropped seven studio albums, including their latest Shanachie Entertainment release Beyond The Sun. We recently caught up with the band's front-woman, Adryon De León, who was kind enough to chat with us while she and the band were literally on the road heading to their next concert. Scroll down and read our insightful conversation.
R: Thanks for taking the time to speak with us. Where are you guys headed right now?
Adryon De León: You're welcome, thanks for having me! We're headed to Raleigh to play at Southland Ballroom.
R: You guys have a massive tour schedule ahead of you. Are there specific cities or venues that you personally enjoy?
ADL: I love playing in New York – especially Brooklyn. I love the east coast vibe because there's a deep love there. Boston was also amazing when I went there last. Chicago's also always great. The east coast is really supportive of our music.
R: It definitely seems like there's been a West Coast resurgence lately. Orgone's been around for a long time. What do you think are some of the differences between both coasts?
ADL: I wasn't part of the music scene until I joined the group a year and a half ago. The west coast is just so massive and there's so much going on– so it's hard for me to say. I just know that there is a desire and a need for really good music and I see that people are really getting deep in what they're choosing to listen to. It's hip to know the band that no one else knows.
R: Wow. I knew that you were a new addition, but I didn't realize it was that recent.
ADL: Yeah! I joined a year and a half ago.
R: The band has an immense discography. Were you familiar with it before joining? 
ADL: You know, since I've joined the band, I have been able to listen to the discography through my husband who has become a super-fan. I wasn't quite familiar with it in the beginning, but since my husband has literally become a super-fan, I can say that I've listened to the discography.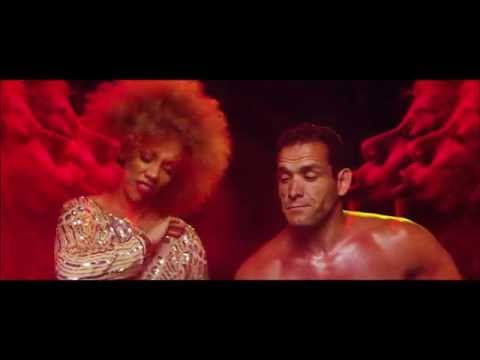 R: How is 'Beyond The Sun' different from the previous albums? 
ADL: I think it's more cohesive and there's a very obvious vision to this album. It's kind of a little bit out of the box, but we've maintained the integrity of the group. I think we did a really good job of stretching ourselves creatively and musically in this album while preserving the history and the tradition of this band. The vocal tunes also dominate this record versus the previous albums which are more focused towards instrumental songs.
R: So what was it like to join such a tight-knit band like Orgone?
ADL: You know it's kind of like the equivalent of getting into a relationship and hoping that his mom likes you kind of deal. [laughs] But the guys were so cool about it. I mean, everybody was so gracious and accepting that it made joining the band feel really natural. It was a very easy and comfortable transition. I didn't know anyone and I've never heard them play and they've never heard me sing until our first [collective] soundcheck in Bloomington, Indiana during October 2013. But even from that moment, we all just kind of felt like like this was right. That was my first gig with Orgone. I flew out, learned seven songs, and from there it was like, "Alright, let's go."
R: What were you doing before joining Orgone?
ADL: I worked as an administrator in an office that managed an engineering firm for 15 years. I was gigging casually on the side when I could, but the change really happened when I met my husband. He was really a catalyst in making things happen because he could tell that I wasn't happy working at my job and he sort of pushed me to pursue music full on. So I auditioned for Disney, got it, and performed there for a while. I did more casual gigs, did a lot of corporate and wedding gigs before teaming up with Orgone.
R: You mentioned that you'd never sang with Orgone until that first gig in Indiana. How'd you get that gig? 
ADL: There were a couple of videos of me that are up on YouTube and our keyboard player, Dan Hastie, found one of the videos and looked up my information. It turned out that we had mutual acquaintances. So one day I get a message from them saying, "We're looking for a vocalist, come out to Indiana."
R: Wow. That's amazing. 
ADL: [laughs] This has been a crazy whirlwind and it outweighs any fantasy or dream I've ever had about performing. Everything from the album to being on tour has just been amazing. So when the spotlight is on I just kind of tell myself, "Own it. This is your time."
R: Anything else you'd like to add in closing?
ADL: This version of Orgone is poised to do really big things with this album. I feel like it's the to the moon from this point on. We have a lot of faith and optimism for the future. We just want to spread the message and get as much people on board.
Purchase your copy of Orgone's 'Beyond The Sun' via iTunes. Catch Adryon De León and the rest of the band this Thursday at Brooklyn Bowl. Catch their complete tour listing here.