In an effort to raise awareness about up-and-coming musicians, we started an ongoing series showcasing six musicians every month. This month features 6 Guitarists that you should be keeping tabs on — guitar pun! While we're almost certain that we might have missed your favorite guitarist, we're also quite sure that the six featured this month are worth checking out. So don't fret (another guitar pun!) about whether or not we missed such and such, because our mission with this ongoing series to eventually cover the entire board.
Though he's from California, Charles Altura has made a comfortable place for himself since moving to New York. Featured as part of
Tigran Hamasyan
's group, with
Chick Corea
and The Vigil and with
Terence Blanchard
's E-collective, he has traveled the world while still finding the time to compose his own music and put on shows with some of New York's most talented players like
Gerald Clayton
, Harish Rhagavan and Justin Brown. Be sure to catch him whenever and wherever he is plays; the guitarist's ensembles often vary in instrumentation and the music is always incredible.
Los Angeles based guitarist Jairus Mozee is one of the most talented, prolific guitarists you probably haven't heard of. The young phenom has played with 
Prince
,
Janet Jackson
,
Anthony Hamilton
,
Mary J Blige
and
Lalah Hathaway
among others. Coming from a strong gospel background has given him plenty of technical ability, but it's his unique ear that sets him apart. His albums are heavily produced and structured to feature him while also showing off his  ability to be an expert supporting member of an ensemble. Los Angeles readers can catch him Tuesdays at Power House in Hollywood.
Upon arriving in New York in 2004, Gilad Hekselman quickly established himself as one of the city's most sought after guitarists. Before even completing his bachelor's degree from The New School in 2008, he had already released a critically acclaimed album with bassist
Joe Martin
and
Ari Hoenig
. Since then, Hekselman has gone on to play with beloved contemporary artists like Mark Turner, Chris Potter, Gretchen Parlato and Tigran Hamasyan among many others, and to release several more albums. His latest album, 
Homes
, was just released and, as is always the case with each of his musical offerings, showcases his constant evolution as a composer, player, artist and overall sonic innovator. Get your copy of
Homes
from his
website
.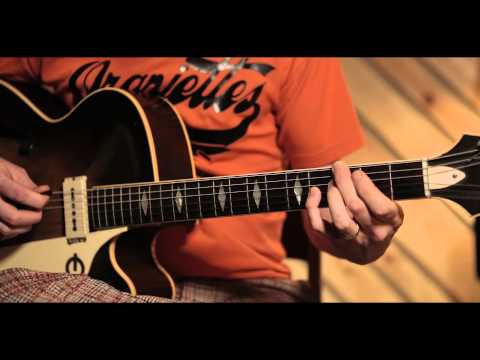 Those who copped
José James'
2014 release
While You Were Sleeping
are sure to be familiar with Brad Allen Williams' guitar playing. If you're not, then quit reading and just listen to dude playing a very, very pretty and all parts compelling solo guitar arrangement of Vincent Youman's "More Than You Know." Seriously… stop reading and watch BAW cradle that gorgeous Epiphone as he serenades you from Brooklyn's Bunker Studio. Finished watching? Good, now buy his stunning new album
Lamar
featuring
Pat Bianchi
on organ and
Tyshawn Sorey
on the kit on
iTunes
.
Butcher Brown
guitarist
Keith Askey
is starting to make a name for himself. While contributing to Kendrick Lamar's "i" has certainly helped push his career forward, what's even more impressive is his 11-track
Too Much Guitar
LP, which was released earlier this summer featuring Butcher Brown bandmates
Devonne Harris
and
Andrew Randazzo
.
Chicago-born guitarist Isaiah Sharkey first caught our attention via his contributions on
Chris Dave
's
Drumhedz Mixtape
, which
we premiered by the way
— you know, just in case you forgot. Since then Sharkey has gone on to lend his strings to other notable projects including
D'Angelo
's long-awaited
Black Messiah
LP.
Words by Paul Naser and DanMichael Reyes.