The intersection between jazz and hip-hop has been home for many artists. Whether it's producers digging through old records so they can flip a sample, jazz musicians making an amalgam between the sampled track and the OG recording, or future would-be writers taking liner notes into the record store so they can look for the albums where the samples came from. The symbiotic relationship between the two musical expressions is a testament to the flexibility and adaptability of the artists that grace both lines. Chief among those artists who are able to teeter between both circles is non-other than Mark de Clive-Lowe.
Equal parts pianist, producer, composer, DJ, beat-maestro, and full-time mad scientist, MdCL has made a career of inspecting both idioms through the combined lens of his experience in both fields. His critically acclaimed CHURCH parties are the perfect example of how the Kiwi-bred Los Angeles-based musician uniquely integrates improvisational aspects with hard-hitting, head-bopping grooves. MdCL recently dropped a 43-minute mixtape simply titled #BlueNoteRemixed Vol. 1 via Mass Appeal last week, so it was only natural that we linked up with the man himself to get the 411 on his latest project.
Revive: How long have you been sitting on this mixtape?
Mark de Clive-Lowe: Not that long. I recorded it in New York… maybe six months ago?
R: You did the same flip for Cannonball Adderley's version of "Autumn Leaves" for the Sonos X Dubspot event.
MdCL: So that's where the whole project was born. That was in Los Angeles during the Blue Note 75th Anniversary and did some stuff with Sonos. So there were conversations around what could we do? Dubspot and Sonos were talking at the time — I was also teaching at Dubspot. Then the idea came up and the guys came straight to me and said, "We thought this might be right up your alley."
The concept was to sample Blue Note recordings — it was like a workshop. I did an MPC-style chop with Donald Byrd's "Think Twice" and the "Spinning Wheel" drum break. I demonstrated that in an MPC-style when people used to do it. Then I prepped some samples and did an Ableton set — the way I like to do my live remix kind of vibe.
It was funny, because while I was doing it I was thinking, "This is like a record!" And it's cool because the hashtag (#BlueNoteRemixed) on Instagram pretty much follows this timeline. I did a couple of more workshops, one in in St. Louis and Houston.
But yeah, it was born from that. So I thought, "Let me just record it." I know that the label is not about to jump at the idea — unfortunately. I was in New York and I had a couple of days off. I hit up Tariq. Went to [The Breeding Ground NYC] and recorded it. Plugged up my whole rig and performed my mixtape.
R: So it was just you on Tariq on that initial recording?
MdCL: Yeah, the guests were done separately. The bulk and the body of it was all done at Tariq's. I knew wanted to have some guests on it when I did. I wasn't sure who, what, and where. But at Breeding Ground it was just about the process. Here's this music I dig, let me put it together in a conversation that is my perspective.
R: John Robinson is on two tracks. It's a collaboration that we've heard before. What is about JR that makes you keep coming back?
MdCL: I love his voice and his flow. He sounds dope and he's a storyteller.
R: Yeah, I remember how the last time we spoke you noted that John Robinson told the whole story of CHURCH.
MdCL: Exactly! In this case it wasn't like, "John I need you to tell some stories." It was more like, "Just have some fun!" I know he's not going to talk nonsense and he's the homie. We did CHURCH last month in Chicago and Millennium Park — it was six to seven-thousand people on a Thursday evening and he came out for that. So he comes out whenever he can be in the mix.
I'd love to explore more with John and there's a couple of collaborative projects that we've kind of talked about and laid ideas for. But in the context of CHURCH, I love having him bring some narrative.
R: The Filipino kid in me geeked the moment I heard Bambu.
MdCL: Doesn't he sound good? We met each other up in the Bay through Ge-Ology. Nia had known him already in a whole separate context. It was some air of inevitability. When the mixtape came up, I was looking for someone with that spark. I thought he'd be dope. We were in touch and he happened to be working on his record and was like, "Can you help me out with this track?" So we knocked both of them and the timing was perfect. He just dropped as super-dope, hazy, smoky verse — it was almost like The Pharcyde.
That first half of the mixtape is about the hip-hop I grew up on. Everything can be a super obscure sample that a hip-hop head has never heard, but some of them are so great.
R: There's a lot of Blue Note deep cuts as well as recognizable classics on the mixtape. I thought it was interesting that "Mystic Brew" and "Oblighetto" side by side, which are two famous Tribe Called Quest samples.
MdCL: I didn't put them together consciously, the whole thing just worked together in a flow. But using those two songs was very conscious. It's just about growing on Tribe and wanting to pay homage to that.
R: There seems to be this romantic notion for a lot of musicians who got into jazz through hip-hop for those records that eventually led them to the samples.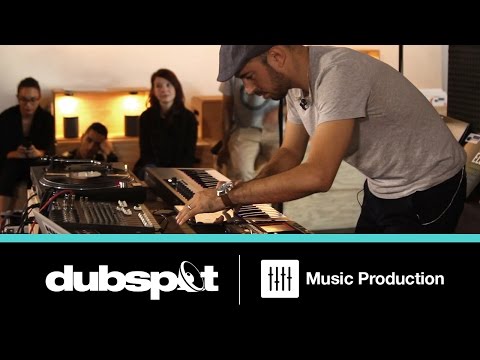 MdCL: Totally! When the first conversation happened with Sonos and Dubspot, the first things I thought of were "Mystic Brew" and "Oblighetto."
R: How did you come about choosing the songs on the mixtape? Did you have it planned out when you got to The Breeding Ground?
MdCL: I picked the material that I wanted to use — definitely. There's a lot of stuff that I grew up listening to that I was curious about. Like the Larry Young joint, "Zoltan." The Joe Henderson stuff too! Joe Henderson's almost a featured artist, he comes up three or four times. His music is ripe for that. The groove of the band works, it has this interesting modality to it harmonically, and I think it's perfect that context. Herbie's "Jack Rabbit" — I visited once before on a Herbie Mixtape. I loved how that worked so I knew I wanted that.
But a lot of other things involved me asking how to get this in? I want Art Blakey, but how do I make that work? Sometimes it was the artist. Blakey was one of those and there had to be some Blakey that worked in this context. Sonny Rollins is another artist that I knew I wanted to have, but a lot of the records that I was thinking of were on Prestige, so it was a matter of finding these little pieces.
I used two bars of "Blue Train," and looped one note of John Coltrane as an intro to something else. So it was just a little piece of the puzzle and not a whole chunk. A lot of it is really about the record drop moment. So it's different for different artists and tracks.
R: I felt that this mixtape was a little geared to '70s Blue Note sound. But I did like the addition of the Pee Wee Marquette intros. I felt like it gave it a proper hip-hop mixtape feel. How important was it to include that in this context?
MdCL: That's where it comes from. It comes from a hip-hop mixtape context. I would love to a Volume II and focus and focus on the post '70s Blue Note, which is a whole different sound. But there's definitely a bit of a history lesson in there. Hopefully I don't sound like I'm trying to teach you. But if you digest this, then you'll learn. It's just a way to have fun with the music. It can be seen as pretentious as an art-form and some people don't relate to it.
R: Is there still room to explore within the world of a four-bar sampled loop?
MdCL: Totally. We can do a lot more. If you look at it in one direction… Let's say harmony. What someone like Robert Glasper does with that is ridiculous. When you can't deconstruct it any further harmonically, he goes three steps on and it's nuts. The imagination is endless.
It's funny because my live setup has been fairly stable for the last few years. But I'm piecing together an evolution of that because there's more things to do. There's some things that I want to do that I can't do. So I'm excited to explore that. The loop is interesting because it gives the audience something tangible. Because not everyone is the kind of person that wants to go watch an Indian Raga and sits through hours of music and think it's all uniquely incredible. Most people are just like, "Give me the moment. Loop that. Put some drums under it."
There's an attractiveness to that. It's creativity where if you don't have boundaries or restrictions, it's very difficult to be creative. When you have no rules and no boundaries, it's hard right? So that's where the loop is interesting because in a live context, I put a four-bar boundary on beat looping. That becomes my context. How can I move things within this? Within the context of technology and also musicianship. It's challenging and it's interesting because it gets creative.
R: Going back to the people involved in this mixtape… How did Pino Palladino end up playing on this?
MdCL: Pino's on one jam on there — Herbie's "Emperyan Isles." Pino and I go back like over ten years. Wet met in London. My friend IG Culture put together a jam session and brought together a lot of people who didn't know each other. So Pino was there and I was there. It was super intimidating, I had just seen Voodoo at Brixton Academy in London and there he is. That was crazy.
We've gotten along great from the get-go. He's been gracious enough to record on quite a few things for me. So with this, we hand't caught up in a while and I asked him to lace a little something.
R: It drove me almost crazy trying to look for information about Nomad Pendergrass.
MdCL: Aye! He's an enigma.
R: That could just be you sampling a gazillion sax players that you've share the stage with and stringing it together.
MdCL: What a concept! Getting all the recordings of different sax players and splicing them together. I like that.
R: So where did you meet this enigmatic sax player?
MdCL: I feel like the first time I came across him was on MySpace.
R: Wow. That long ago?
MdCL: Yeah. It's nice to connect. I found a record the other day that you can't find on the internet and I guess there's things that on the internet that you can't find. And I guess Nomad's one of those cats. I mean it's in the name.
R: Even if dude wasn't related to Jay Dee, Illa J would still be one of the dopest artists out today and it was delightful to hear him on this mixtape. When you're piecing together guests, do you have people in mind or does it come down to availability and schedules?
MdCL: It's a bit of both. But in this case, there was no one that was a second call. Each person happened in their own way. Illa J and I met during an Afrokinetic party at Louie and Chan. On the mixtape — I knew I needed another voice and he just came to mind. His voice sounds like his brother, they have a family resemblance. It's such a cool sound.
R: Someone can slap me for saying this, but he's a little more lyrically adventurous than his brother.
MdCL: Well he's a different cat. Like you're saying, he's his own dude. And I really appreciate that. He's got a Detroit flavor to his style, flavor, phrasing and swing and I love that. To have that and have him bless the Joe Henderson jam was very cool.
R: Nia Andrews is also on the track. How has she helped your artistic development? If I remember correctly, she was one the one who got you back to playing piano again.
MdCL: That's huge. She got me back on the piano. That's no small thing. She's been a huge cornerstone, bedrock, and inspiration in this LA chapter of my life. She the one gave CHURCH its name, so she's been there from the get-go of that. She has such a unique voice as a writer and singer that she is probably my favorite songwriter there is right now. That's all bias aside. I think she's amazing.
There was no Plan B with her. It was like, "If you don't want to sing on this, I'm not sure I'm going to ask anyone else." She is that voice I want to hear. So it's cool to hear her flip such a classic song.
Download Mark de Clive-Lowe's #BlueNoteRemixed Vol. 1 here.
Track Listing:
"Koko and Lee Roe" – Gene Harris
"Pot Belly" – Lou Donaldson – feat Bambu
"Tidal Wave" – Ronnie Laws
"Blacks and Blues" – Bobbi Humphrey
"Oliloqui Valley" – Herbie Hancock – feat Pino Palladino
"Flow" – Terence Blanchard
"It's Your Thing" – Lou Donaldson – feat John Robinson
"A Night In Tunisia" – Sonny Rollins
"Black" – Joe Henderson – feat Illa J
"Blue Train" – John Coltrane
"Autumn Leaves" – Cannonball Adderley
"Basheer's Dream" – Kenny Dorham
"Mode for Joe" – Joe Henderson – feat John Robinson
"Slop Jar Blues" – Donald Byrd
"Mystic Brew" – Ronnie Foster – feat Nia Andrews
"Oblighetto" – Brother Jack McDuff
"Short Story" – Joe Henderson – feat Nomad Pendergrass
"Free For All" – Art Blakey
"Caravan" – Duke Ellington
"Zoltan" – Larry Young – feat Nomad Pendergrass
"Three Way Split" – Hank Mobley
"Caribbean Fire Dance" – Joe Henderson
"Jack Rabbit" – Herbie Hancock