BRIC JazzFest is set to invade Brooklyn's BRIC Arts | Media House with three back-to-back nights of performances from living legends as well as the best up-and-coming artists. Showcasing 50+ artists in a span of three nights, the BRIC JazzFest Marathon will feature staggered sets throughout the BRIC Arts Media House. With all the events taking place at once, it may get a little daunting to try to catch each artists. So we've put together a short list of featured artists that we feel should demand your attention once you're at the festival. That being said, it'd still be nice to try to catch at least a glimpse of every single artist wouldn't it? Scroll down to read our list.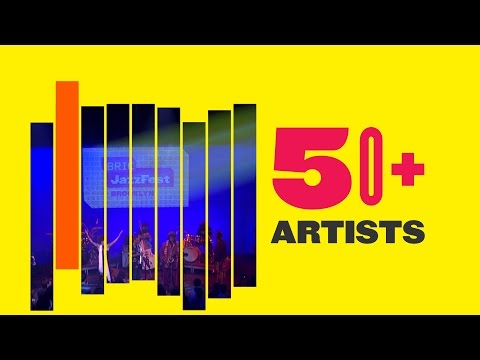 NIGHT 1
Taylor McFerrin
Brooklyn-based super-producer Taylor McFerrin's 2014 release Early Riser still gets plays around the office as the 12-track LP takes listeners through a myriad of sonic landscapes. Starting at 10:15pm during NIGHT 1 of the marathon, McFerrin is slated to rock alongside drummer extraordinaire Marcus Gilmore as the pair will look to open up the festivities with a bang.
FREE ADMISSION: Get yours here!
NIGHT 2
Kandace Springs
Kandace Springs dropped this really amazing cover of Sam Smith's "Stay With Me" back in 2014. The video premiered on Okayplayer and garnered a sizable amount of views. As fate would have it, among the many viewers who caught Springs' rendition of "Stay With Me" was the late Prince. "Prince came into my life about two years ago. We had put up a video — it was when Sam Smith's 'Stay With Me' was a big hit," Springs recalled during an interview The Frame.
"We put [my cover version] up online and Okayplayer decided to premiere it on their page. Apparently, Prince likes to follow them and then he directly hit me up on social media. Of course, I didn't believe it at first, and then he said, 'All of your dreams are about to come true. You wanna come play with my band?' And then Capitol Records calls an hour later and said, 'Prince just called us,' and then literally, they were like, 'He wants you to come play for his 30th 'Purple Rain' anniversary.' More recently, Springs released her first full-length record Soul Eyes via Blue Note Records and is currently embarked on a world tour. Springs is scheduled to perform from 10:35pm to 11:50pm.
James Francies' Kinetic
Rising-star doesn't even begin to describe James Francies. Featured in Revive's 6 Young Pianist You Should Know About, Francies has since added to his already impressive résumé with appearances in Marcus Strickland's Nihil Novi, a soon to be released record with Eric Harland, the Nina Simone tribute album Nina Revisited and more. Hitting the stage at 7:50pm with his band Kinetic, Francies and company are poised to educate listeners about the direction and the future of modern music.
NIGHT 3
Terrace Martin
At the center between the amalgamation of jazz and hip-hop lies multi-instrumentalist, super-producer, composer and arranger Terrace Martin. The Los Angeles native made headlines with his work on Kendrick Lamar's universally acclaimed record To Pimp A Butterfly. Recently, Martin has been sharing the stage with the legendary Herbie Hancock. Outside of assisting artists with their records, Martin's Velvet Portraits — released back in April this year — proved to be another highlight in his already storied career. Featuring guest appearances by Robert Glasper, Lalah Hathaway, Thundercat, Keyon Harrold, Ronald Bruner, and Kamasi Washginton (to name a few), Velvet Portraits navigated through different grooves and soundscapes with ease and finesse making it a landmark recording for 2016. Slated to close the marathon, Martin is scheduled to hit the stage at 10:45pm through midnight.
Julian Lage
Julian Lage was a bit of a prodigy in his earlier years. While prodigies come and go, Lage has managed to keep his unique gift fresh by always looking at his godlike guitar chops from different angles and perspectives. Arclight, Lage's latest release, which dropped earlier this year in March, is the guitarist's latest exploration in his vibrant career as an artist. Recorded solely on a Telecaster, Arclight showcases a different side of Lage that we haven't heard before. Backed by bassist Scott Colley and drummer Kenny Wolley, Lage and his trio will be performing music from Arclight on NIGHT 3 starting at 10:35pm to 11:50pm.