Karriem Riggins is a legend. No two ways about it. Compile a list of your favorite hip-hop records, and chances are that he had a hand in crafting and creating a good number of those cuts. Whether he's behind the kit, the MPC, or mixing from the console, Karriem Riggins is the very definition of a modern day renaissance man. Born to a musical household (his father, Emannuel Riggins appeared on several albums as a sideman for Grant Green), the young Karriem Riggins caught the bug early when his pops would hold jam sessions and rehearsals in their Detroit home.
Riggins recently hit the studio with longtime collaborator Common to work on the supa-emcee's forthcoming 11th studio album, Black America Again, which is slated to drop on November 4 — the same day that Riggins is hosting his BLEND event at NuBlu. A concert on the same calendar date as Black America Again's release may seem coincidental, but considering that Common is billed to appear as a special guest at BLEND, we're willing to bet that there's more in store than what the flier suggests (hint-hint). We sat with the man himself to get his thoughts about his work on Black America Again and that historical Tiny Desk performance amongst other things.
Revive: Common stated that this is the most inspired he's felt since J Dilla passed away and that working with you and Robert Glasper gave him the energy to be creative. This isn't your first time working with Com, what was special and different about Black America Again?
Karriem Riggins: Back in February when we started, I was listening to a lot of music and receiving a lot of information. I was doing shows too — that inspired a lot of the beats that I created while I was out on tour. I would text [Common] beats and he would select the beats via text. That's kind of how we started, it was through iMessage. The first three beats I sent are on the album. That was "Love Star," "Little Chicago Boy," and two others.
R: "Little Chicago Boy" is a song about Common's father — the late Lonnie Lynn Sr. The first Common track you worked on was "Pop's Rap Pt.II" off One Day It'll All Make Sense. Could you talk a little about what Pops was like and what he meant to Common?
KR: He was very creative and witty. He's a great person to be around. You know when you're around one of your friend's parents, you feel like you kinda need to act a certain way because you're around their parents? He felt more like he was one of the fellas. He was super cool. You didn't even feel that type of [parent] energy. He was was just one of the brothers. He always had something creative. I think he got a lot of that inspiration from Common. From doing spoken word and putting those lyrics together.
For this album… there were some [unused] recordings of Common's father that he recorded for the last album. We ended up using those recordings for this album. So we have a "Pop's Rap" for this album. Common wrote a lot about his father and their relationship and what Lonnie "Pops" Lynn meant to him. It's a deep song.
R: On the topic of fathers, my pops had Grant Green's Shades of Green playing through the house constantly. That's an old Blue Note Records release from 1971 where Emmanuel Riggins — your dad — played on. You've mentioned how your pops would hold rehearsals in the garage. What was that environment like growing up?
KR: There was a lot of funk man. They were funking out. There was so much soul in the house. Just hearing that — I always gravitated towards the drums. I always wanted to play the drums. A lot of drummers didn't want kids banging on the drums and chipping the finish of the drum — because I was too short to really jump on. So I would get in when I could fit in.
R: You played trumpet for a little bit too right?
KR: Yeah, I played trumpet all through middle school. From 6th to 7th grade.
R: Did you ever jump on the keys like your dad?
KR: I do. I play a little piano. [laughs] I play more rhythm piano than actual piano.
R: I mean… it is a percussion instrument also.
KR: Thats true! That's what James Brown said: "Everything is a drum."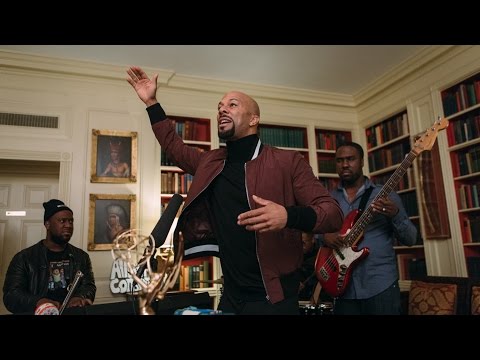 R: Jazz artists have always used their platform to speak against the ills of society. I think about songs like "Strange Fruit," "Alabama," and "Fables of Faubus" to name a few that exemplify that spirit. How important is it for artists today to use their voice and platforms to comment about what's going on today?
KR: I think it's very important. Without that there's no awareness. Using a platform creates the most awareness. Especially someone like Common who has millions of fans. It's a waste when you're not using it. I also feel that away from that platform, using your voice and other aspects are important as well. Like being actually hands-on you know? Sometimes protesting is the way to go. The one thing that I know about Common, he's a great person and he does use his voice, but he's also in the field and he'll get out there and make noise.
R: I noticed that the BLEND event is happening on November 4, which is the expected release date of Black America Again. Should audience members going to BLEND on November 4th expect anything special since it's the release day of BAA and Common is a featured special guest?
R: You should always expect something special at any BLEND event. This is going to be a monthly event so I'm going to have something special every month for New York City. But [November 4] in general is going to be special with the album release. You might get some performances, you might get some surprise guests, some unreleased beats, and unreleased music.
R: What's the idea and concept behind BLEND?
KR: I get a lot of calls to DJ and I don't play one style in particular, so I have to turn down a lot of things because somebody just hired me to play house or hip-hop. I want to be able to play a lot of different type of genres and play comedy records. Sometimes one genre of music attracts one culture of people and I want a blend of everything. I want everybody to be able to have fun.
R: Can you talk about what it was like working with the musicians who contributed on Black America Again?
KR: This was the first time I worked with Robert Glasper — as cool as we are. We share a lot of the same loves and passion in sound. This is our first time working together. It worked so well, that it's just flawless now. I'll send him something and we'll put it together. We just keep it moving and we keep stacking songs. Have you heard Elena? The flautist?
R: Yeah, she's bad.
KR: I didn't know she's a singer also. We recorded "Letter To The Free" and we had everyone go in and track vocals on that. She started to sing and I was like, "Oh no! This is crazy!" That's why we had her sing on "Red Wine." Originally we had Anderson .Paak on the song and we couldn't get Anderson cleared on the song so we reached out to Elena and she did an incredible job. That was our first time working together.
Everyone that's on the project is a community and it all works. Sometimes you force certain things and you'll see it's evident. The Supreme Being will let you know when something's not right. And this turned out to be something classic and I'm honored to be a part of it.
R: That Tiny Desk Concert was one of the most beautiful 20 minutes of music that I've ever watched. How excited were you to be a part of that?
KR: That was incredible. That was my first time there man. It was an honor to play there while President Obama is still in office. To be in his house is definitely deep. And to be performing the songs with the content that we had. It's never been done before and it's definitely something classic.
>>>Purchase your tickets to Karriem Riggins BLEND here
Pre-order Black America Again on iTunes.
Keep it locked for the second part of our interview with Karriem Riggins.