Despite being only 27 years old, Christian Sands already has a firm grip of the history of jazz piano. Not only can he articulate the history of his instrument with great detail, the dude sounds pretty nice sitting behind them keys also. We're not the only who thinks so as the young pianist has been a regular fixture in Christian McBride's trios. More recently Sands signed with Mack Avenue Records and is slated to drop his debut album REACH.
Due for an April 21st release date REACH includes an all-star cast of musicians including Yasushi Nakamura on bass and Marcus Baylor on drums. Sands' debut effort also enlists the help of saxophonist Marcus Strickland, guitarist Gilad Hekselman, and percussionist Christian Rivera. Co-produced by Al Pryor and Christian McBride (who also makes a cameo on bass), REACH proves to be a tour de force of a debut album from a young musician with the highest ceiling of his generation.
We caught up with Christian Sands to discuss his forthcoming record. Read our interview below.
R: You've spent a lot of time with Christian McBride on the road. What was the biggest thing you've learned from him?
CS: The first thing you learn is you learn how to interact with the audience. You learn actual performance techniques and tactics. You learn how to deliver when you're tired and you've only had two hours of sleep. You learn how to talk your audience and your bandmates on stage.
The road isn't about how fast you can play and the technique about it. What the road explains to you is how to be a better musician and how to be a better person in its entirety. It gives you the experience to create the vocabulary that is necessary to reach people. And that really creates an artist.
Someone like Christian McBride has learned that from Bobby Watson, Freddie Hubbard, Herbie Hancock, and everyone he's played with. He's learned all these tactics and techniques that he needs so he can deliver in his band. Then I learn it from him and it creates this lineage of entertainers, performers and really good artists.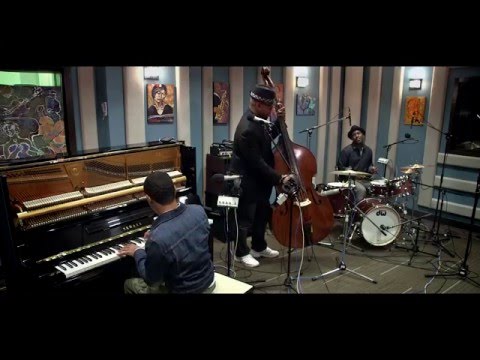 R: Speaking of lineages, you spent time with the Dr. Billy Taylor. How did the two of you meet?
CS: I met him through the Jazz in July program at UMass Amherst. A teacher who I was studying with at the time told me about the program and said, "Dr. Billy Taylor is the director of this program and teaches it. I want you to go and meet him so you can learn all this stuff."
So I went. It was a two-week program and I did one week. I checked it out and saw what it was like. Then I met him and we instantly hit it off. At that time I was still hungry for information about the piano — especially jazz piano and the tradition of it. I wanted to learn about stride piano like Teddy Wilson style and Art Tatum. I was heavy into Art Tatum. Once you hear Art Tatum you just have to try to figure something out. It's literally listening to god talk and you gotta figure out what he's saying.
R: Listening to Tatum for the first time does have a coming to god effect where you're sitting and you're trying to figure out, "How do I deal with this?"
CS: Right!
R: But a lot of people get frightened by Tatum and want to quit piano. But it seems that listening to Art Tatum had a different effect on you.
CS: When I heard Art it was like a challenge to say, "This is all this information, how much information can I get out of this?" What makes Art Tatum amazing is that he does things that today that he was doing when he first started out.
And it's not just his technique. It's harmony, melody, depth, sound, pedaling, vocabulary, speed, and it's on so many different levels! It's literally every pianist that we have in our history in one person before and after him. He's really incredible.
You've got the octaves from Earl "Fatha" Hines and you have that in Erroll Garner. But you have the harmonic sense of Herbie or Chick Corea. You have the speed of Oscar Peterson or Benny Green But you have this avant-gardeness too like Thelonious Monk, Cecil Taylor, or Mary Lou Williams at times. You have all this information in there.
R: Even from a vocabulary standpoint, a lot of what Charlie Parker copped he learned from when he was washing dishes at the restaurant that Tatum was playing at. Do you consider Tatum to be the first modern pianist then?
CS: Yes. I can say that because at the time when he was playing, Teddy Wilson was around. To me, Teddy Wilson played perfect piano. Everything was exactly what was needed. To me, he's like a Hank Jones. The temperament was amazing and the style was incredible. It was perfect. When flurries was needed, it was needed. He just played so perfect.
So Wilson and Tatum borrowed a lot from each other. I wasn't around then, so I'm not entirely sure.
R: Yeah, well we have the records to listen to.
CS: [laughs] Right! But listening to them both — I'm sure they were definitely aware of each other's playing. But Tatum — I'd say — is the father of modern piano because of the pianist that came after him and around him like Dr. Billy Taylor and Monk! There's a story that Dr. Taylor used to tell me that Monk sounds like Tatum. There's a story that "Round' Midnight" is actually influenced by the way Tatum played "Body and Soul."
R: Wow. That puts "Round' Midnight" in a different space for me now.
CS: Right! When you listen to the flurries at the end of the song and Monk will come down from the top of the piano to the middle of the piano, that's a Tatumesque line.
The wonderful thing about Tatum is that he takes the history of where he came from, with Jimmy Yancey, Fats Waller, and that sound, and pushed it forward. That's what a great modernistic pianist does. He takes all the tradition of stride, classical, and piano knowledge and says, "Okay, I'm going to do this with it."
Stay tuned for the second part of our interview with Christian Sands. In the meanwhile, scroll down right below and give a listen to "Freefall" off his forthcoming REACH LP.